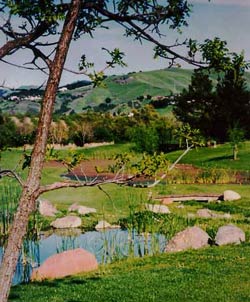 Why it's great to live in the Town of Moraga
Moraga is one of the best kept secrets of the East Bay. Tucked in the hills behind Orinda and Lafayette, Moraga has no direct freeway access. Yes, it takes a few extra minutes to get to the freeway, but residents are rewarded with slightly lower real estate prices than Orinda and Lafayette, no freeway noise and a very strong sense of community. Moraga is known for outstanding schools, pear orchards and beautiful rolling hills complete with grazing cattle.
Moraga Schools
The schools are excellent, from K-12. The Moraga Unified School District is made up of three elementary schools (grades K-5) and one middle school (grades 6-8). These five schools consistently rank among the top in the state in annual Academic Performance Index (API) testing by the California Department of Education.

Teens typically end up at Campolindo, which is one of the four high schools in the Acalanes Union High School District.

There are many preschools for younger parents to choose from, including parochial, non-denominational, play-based and Montessori programs. There are also private school options in Moraga for parents seeking an alternative for their children in grades K-12.
Downtown, Eating Out and Nightlife
The Rheem and Moraga shopping centers have many popular shops and restaurants. The Rheem center also has a movie theater. A weekly farmers market is held on Sundays at the Moraga Shopping Center. Just around the corner from the Rheem Center, the historic Spanish style Hacienda de las Flores is a favorite location for weddings and other large-scale parties.
Moraga is home to commuters who travel through Orinda or Lafayette to BART or the freeway. The more adventurous take the curvy back roads through Canyon to Oakland.
The Scenery and Must-Visit Spots
The centrally located Moraga Commons Park has something for everyone with playground equipment, a skate park, basketball and volleyball courts and more. The park is a great place to catch the Lafayette-Moraga Trail. The scenic trail is a favorite for walkers, runners and bikers. Other great hiking and walking trails around Moraga include Mulholland Ridge with its beautiful views and the wooded trails around Canyon on the southwest end of Moraga.
2,500+ full time undergraduate students attend Saint Mary's College in Moraga. The school also has a graduate program. Moraga residents appreciate and often visit this beautiful, Spanish-style campus.
Learn more about Saint Mary's College in an article in the East Bay Times, March 15, 2017 by Daniel Brown The Miracle of Moraga: How Saint Mary's College gives March Madness a small-town feel. Here is an excerpt from the article:
"It's a small town, but the whole community here really rallies around us," said Calvin Hermanson, a forward for the No. 22-ranked Gaels. "We feel that every game. It's the best atmosphere in the league."
Moraga Country Club is located just past the Orinda border. The private club features an 18 hole golf course, 12 tennis courts, 25 meter swimming pool, club house and more. Contact the country club for membership information.
Events and Entertainment
The Town of Moraga plays host to a number of fun events throughout the year, including a pear festival, Fourth of July fun run, carnival and spectacular evening fireworks display, a Spring Community Faire, Cinco de Mayo at Hacienda de las Flores, Oktoberfest, and a popular Easter egg hunt. There are free weekly
concerts
at Moraga Commons over the summer.
Related Links
Town of Moraga Official Website
Town of Moraga Parks and Recreation
Moraga Chamber of Commerce
Moraga Unified School District
Acalanes Union High School District