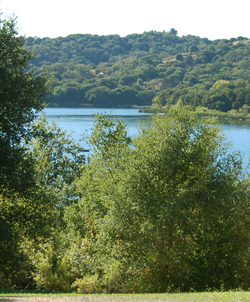 Why it's great to live in the City of Lafayette
Lafayette is an attractive option for homebuyers of all ages. The schools are excellent and the scenery is idyllic. Lafayette is conveniently located near Highway 24 and Bay Area Rapid Transit (BART), with plenty of restaurants and shops in its vibrant downtown.
Lafayette Schools
The
Lafayette School District
is made up of four elementary schools (grades K-5) and one middle school (grades 6-8). These five schools consistently rank among the top in the state in annual Academic Performance Index (API) testing by the
California Department of Education
.
Teens typically end up at one of two high schools:
Acalanes
in Lafayette or
Campolindo
in neighboring Moraga. Acalanes and Campolindo are two of the four high schools in the
Acalanes Union High School District
. Acalanes and Campolindo both offer rigorous curriculum, an overall stellar academic reputation, and equally impressive athletic and extracurricular opportunities.
There are many preschools for younger parents to choose from, including parochial, non-denominational, play-based and Montessori programs. There are also private school options in Lafayette for parents seeking an alternative for their children's K-12 education.
Downtown, Eating Out and Nightlife
Lafayette is generally considered to have the liveliest of Lamorinda's downtowns. Downtown Lafayette is charming and fun to explore.
Mt. Diablo Blvd., Lafayette's "main drag," is full of restaurants, ranging from family-friendly eateries like Chow and Pizza Antica to more upscale restaurants like Postino, Metro and the Duck Club Restaurant at the Lafayette Park Hotel and Spa. The Round Up is a legendary bar in the heart of downtown Lafayette.
Shops in Lafayette include popular chains like Chico's Women's Clothing and Powell's Sweet Shoppe, plus plenty of delightful and unique independent stores and mom and pop shops, salons, services and more.
The Scenery and Must-Visit Spots
The scenic
Lafayette Reservoir
is probably the most popular walking/running loop in the area. The paved loop around the Reservoir is just under 3 miles. The much longer rim trail is a great option for hikers. The Reservoir is popular for fishing and picnicking and has a great children's playground. The
Lafayette-Moraga trail
is another favorite for walking, running and biking. Additional trails and parks in town and the area make this a great city for outdoor recreation.
Mount Diablo State Park
is a popular nearby destination for hikers and bikers.
Commuters make the short trip to San Francisco via
BART
, car, or a ride in the "casual carpool." BART also runs east for commuters headed to other business hubs like Walnut Creek, San Ramon and the Tri-Valley area.
Lafayette has an attractive Veterans Hall, and the
Lafayette Library and Learning Center
is a new 30,000 square foot state of the art library with technology center, meeting rooms, an art and science discovery center and more.
Events and Entertainment
Lafayette hosts several events including a Reservoir Run, egg hunt, downtown concerts and an annual
Lafayette Art and Wine Festival
. The Art and Wine fair draws a huge crowd and is fun for the family with vendors, wine tents and live music.
Related Links
City of Lafayette Official Website
City of Lafayette Recreation Programs
Lafayette School District
Acalanes Union High School District